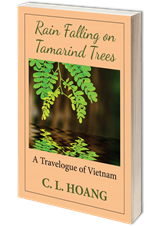 Have you ever wondered what Vietnam is like some forty years after the war has ended? Then come along with the author as he returns to visit his ancestral homeland for the first time after a decades-long absence.
Retrace his steps with him around his former hometown of Saigon in the south, and then follow him along on an itinerary of discovery to other unique destinations throughout the country: Hoi-An, the best-preserved medieval seaport in Southeast Asia; Hue, the ancient capital of imperial Vietnam, on the central coast; Halong Bay, a world-renowned natural wonder; and Hanoi, the country's thousand-year-old capital, in the north.
Filled with historical and cultural tidbits and personal reminiscences, and illustrated with over forty photographs, Rain Falling on Tamarind Trees offers the reader an insightful and fascinating glimpse of this tropical land.
Reviews for "Rain Falling on Tamarind Trees"
Impressively informative, exceptionally well written, and an inherently fascinating read, Rain Falling on Tamarind Trees is an especially recommended addition to both community and academic library Contemporary Travel & Travelogue collections.
―Midwest Book Review
Whether you have been to Vietnam in the past or are thinking of going in the future, you'll wish you had C.L. Hoàng as your traveling companion. His delicate, keenly crafted prose, his sharp eye for detail, his tender humanity and humility, make this travelogue a must-read for anyone interested in Vietnam, travel, or ancestry. He gives us tantalizing clues about his departure from Vietnam in the 1970s, his childhood, his parents' younger years, and the emotions that rise to the surface during his trip back to what was once his home. The next best thing to traveling to Vietnam with C.L. Hoàng is reading his wonder-filled book, and seeing the country through his eyes.
―Judith Fein
Award-winning author of Life Is A Trip: The Transformative Magic of Travel
and The Spoon From Minkowitz: A Bittersweet Roots Journey to Ancestral Lands
Aimed at first-time travelers to Việt Nam, C. L. Hoàng's Rain Falling on Tamarind Trees is a fascinating and highly readable account of one man's return to his ancestral homeland. Hoàng's narrative keeps the reader fully engaged as he describes the highlights of a 10-day visit to this intriguing country, with its must-see destinations and warm, friendly people. Packed with essential cultural background and illustrated with over 40 color photographs, Rain Falling on Tamarind Trees is the perfect introduction for prospective visitors.
―Tim Doling
Author and Việt Nam Culture and Tourism Consultant
The travelogue, Rain Falling on Tamarind Trees, is a wonderful, informative, and heartwarming read! C. L. Hoàng achieves a perfect blend of narrating the sights, describing the tour experience, and relating family reminiscences while sharing moving personal impressions after such a long absence from his homeland. Whether or not you're Vietnamese, you'll find great appeal and inspiration in this illustrated love letter to Việt-Nam.
―Lynette M. Smith
Author, How to Write Heartfelt Letters to Treasure: For Special Occasions and Occasions Made Special
As a world traveler, I've had the pleasure to visit Vietnam in the past. However, reading about C.L. Hoang's recent visit there offers a unique perspective of Vietnam as can only be discovered through the eyes of someone returning to his homeland after many years. If you are interested in Vietnam, have visited Vietnam, or are thinking of Vietnam, I highly recommend putting Rain Falling on Tamarind Trees on your reading list.
—Gary Arndt
Purveyor of the travel website everything-everywhere.com
2013 & 2015 Travel Photographer of the Year, North American Travel Journalists Association
2014 Travel Photographer of the Year, Society of American Travel Writers
Click HERE to read the latest reviews posted on Amazon.com.