In 2015 the traditional Vietnamese New Year's, or Tết, which is based on the lunar calendar, fell on Thursday Feb. 19. It was the same New Year's date celebrated in many countries in the East such as China, Korea, Laos, and Singapore.
I have so many fond memories associated with Tết from my childhood years in Việt-Nam that it would take a whole book to write about them. So within the limited scope of this blog, I would like instead to share with you some of my favorite images of Tết.
The photo at the top depicts a typical flower market around this time of the year, swamped in yellow, gold and red, which are considered the lucky colors.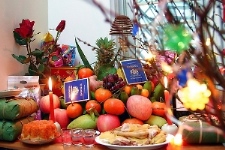 This next photo shows an ancestral altar. Most Vietnamese families, no matter what their religions, have one set up in the most prominent  place in their homes during these festive times so that they can remember their loved ones who have passed on.
A big part of the fun during Tết is, of course, the partaking of the most delicious traditional foods such as rice cakes wrapped in banana leaf and colorful candied fruits, as shown in the pictures below.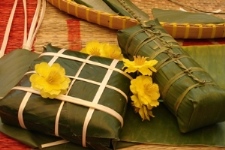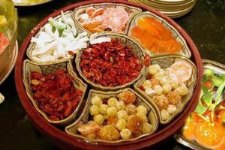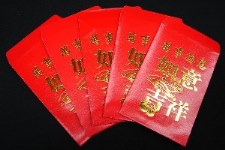 As children, we always looked forward to the adults handing out those red envelopes containing lucky money, or lì xì. It was how we got our pocket money for the whole year. Younger kids couldn't wait to grow up because the lucky money seemed to increase with your age.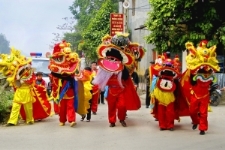 Many fun activities take place on the streets and attract big crowds of New Year's revelers. One of the most popular is the so-called dragon dance, or sometimes the lion dance, as shown in the photo on the left.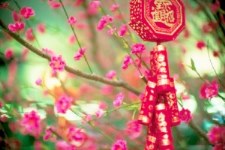 Such colorful processions are accompanied with drums, great fanfare, and loud noises to chase away evil spirits. The loudest noise comes from long strings of red firecrackers like the ones shown on the right.
I could go on and on, but these are just some of my favorite Tết things. I am glad to be able to share them with you, and I wish you and your family a Healthy, Happy, and Prosperous New Year (of the Goat).