The first day of Spring. On the heels of Saint Patrick's Day.
Can you believe it? Doesn't it seem like we just got through Christmas and New Year's, then Valentine's Day, and for me, Tết most recently? I know, I know. Time just seems to fly for us lucky ones who live out here in Southern California and are blessed with great weather all year around. But for the folks living back east or in the Midwest, spring has probably taken a very long route to arrive this year. Hopefully, it's here at last for most people to enjoy.
I love this time of year, which always brings a palpable sense of rejuvenation, of anticipation—and hope, forever young. As busy as I like to pretend I am, I do try to escape from the office and the house and go out for walks, preferably in the parks if I can, otherwise just on the streets among the trees in bloom and under a sunny blue sky. And if I remember to tote a camera with me, I will stop and take pictures of everything along the way: budding leaves, young flowers, clouds in the sky, sunlight on the grass etc. Alas, thanks to my camera skills, or lack thereof, out of hundreds of megabytes of photos taken, only a mere handful can stand to be shared.
The picture shown above of a pear tree in bloom was snapped on one such walk through a small city park. I'll be honest with you. It was taken several weeks ago, since spring has a way of arriving pretty early in Southern California. And then, as I decided to sit down on a park bench and take in the serene surroundings, something popped into my field of vision. I knew right then I had to snap a picture of it and share it with you.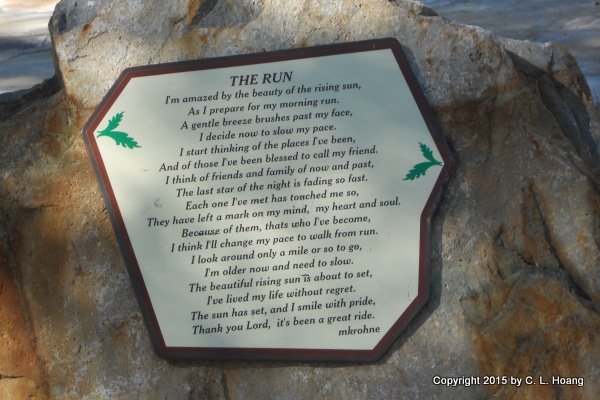 Now, mind you, I'm no runner myself, but the poem just spoke so beautifully to me that I had to capture it on camera so I could read it again later—and share it with my friends.
And as I'm writing this, somebody special comes to mind, a young friend who recently had to endure open-heart surgery and brain surgery within the same week. Andrew, this poem is for you, my man. My thoughts and prayers are with you. May you sail through recovery with flying colors and be back running at full-speed real soon.
Happy springtime, everyone!